The most of the Companies now like hotels, cafe bars, beach bars, restaurants, internet cafe and many others have ready Internet Connection. With no cost and very easy you can connect to Internet a SIP/VoIP Phone device, so every body can use this device together with a pre pay calling card to make long distance VoIP calls very Cheap.
The customers need to buy a Calling Card and to use it. This is very good service specially for guest or tourists who need to call back to their countries or to their business office.
Do you want your own SIP Server?

Do you want to make bussinses with VoIP Telephony and Scratch Cards?

Do you want guest of hotels to make VoIP Calls from their Room using a voip card?
Do you want guest of hotel to be able to use their mobile devices with their softpphones?
Do you want user to buy credits from your web site?
Do you want to sell pins from your e-shop?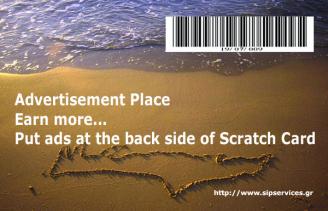 Make something Smart

Put Advertisements to your Scratch Cards, use the back side of your cards for ads.
Use the back side as business card of any hotel too.





---
Pre Pay VoIP calling Cards that you can make an sell